I'm the girl who spent much of my life shying away from family photos and hates being centre of attention.
As an introvert, talking on camera doesn't come easily to me, but I've learned how to harness the power of video, and love the lens.
I have learned ways to embrace video, and talk to the camera as though I'm talking to my best friend.
I personally find talking on camera much less intimidating than talking – or dancing ? – in a room full of strangers.
Being in front of the camera is a bit like dancing at the school disco. It can trigger all kinds of memories from childhood, and feelings of inadequacy.
Talking on camera isn't just for out-going, confident extroverts – if you're shy, then you just have to learn how to treat the camera as your friend.
Using video is a guaranteed way to grow your business, increase your reach, and engage with your potential clients.
WHY SHOULD I PUT MYSELF THROUGH THE PAIN OF TALKING ON CAMERA?
Video is so important for your business because by 2018, video will take up 79% of consumer internet traffic… This means that people are watching videos, and if you're not talking on camera and strutting your stuff, then your business isn't visible!
Your audience (e.g. your clients and readers and customers) have spent years watching TV. They know how TV works, and they have built up relationships with the people on TV.
It's the same for your business. If you want your readers, your clients and your audience to like and trust you, then you NEED TO BE TALKING TO THEM ON VIDEO!
This is your chance to create meaningful – and professional – relationships with your audience.
You can build up trust quickly, and develop better relationships more quickly with your potential clients because they think they "know" you.
WRITE OUT WHAT YOU'RE GOING TO SAY.
Write out a blog post, and get clarity in your message.
Don't spend hours fretting over the blog post, just set a timer for 20 minutes and have a big brain splurge and get your thoughts out there.
When you're written down what your'e going to say, you're more likely to remember it for the Facebook live or your video.
If you absolutely loathe writing, then just use bullet points to get across your key messages.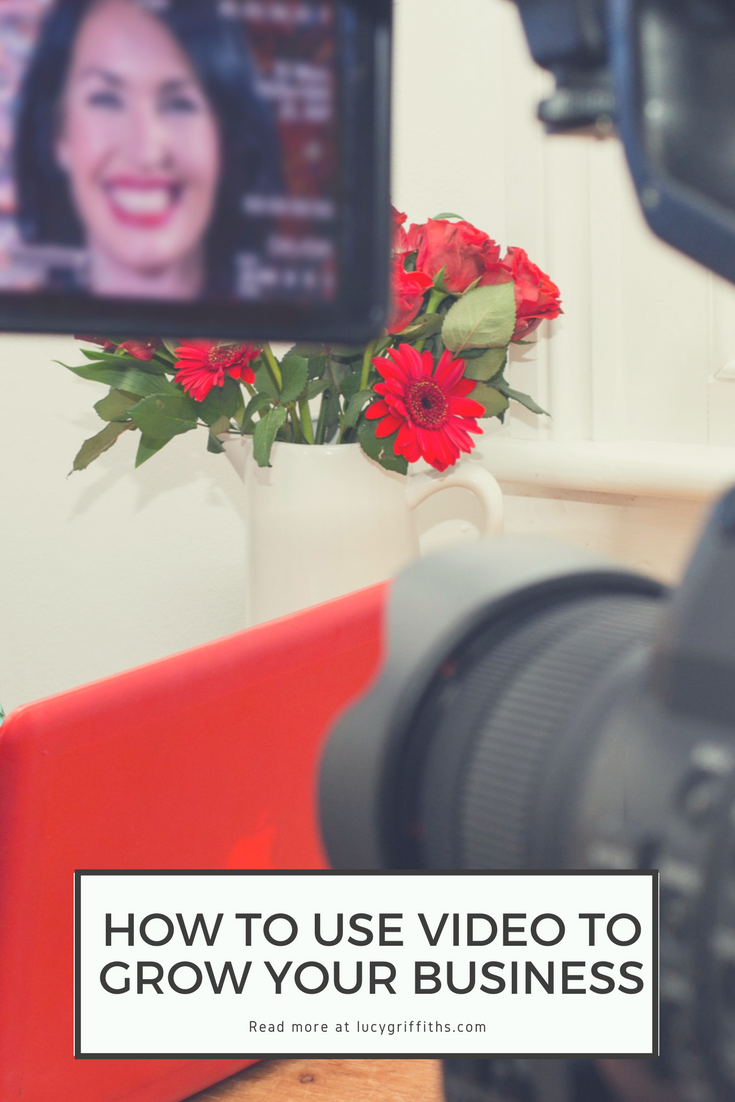 FALL IN LOVE WITH THE CAMERA
When you're doing your YouTube vlog or your Facebook live, start speaking to one person – your ideal client or customer.
Imagine that person, and make friends with them.
I have been training people how to fall in love with the camera for about 15 years, and some of the people I've trained are now anchors at Bloomberg, BBC, CNN, work at CBS News and are watched by millions of people… And they all do this one thing…
They ALL talk to ONE PERSON.
One of the top broadcasters at CNN told me that he only ever talks to his wife and thinks about what she would want to know about although he's actually speaking to millions.
PRACTICE TALKING IN FRONT OF THE MIRROR
Practice what you are going to say in front of the mirror so you've worked out where your stumbles and hesitations are before you go live.
Practice every day for a week if it makes you feel more confident! No one is going to know, and you'll feel better!
BE YOURSELF
I've also trained many seriously successful entrepreneurs and politicians how to have that "likability" and "trust" factor on screen.
When you're talking on camera, look at the LENS. If you look away, you'll look shifty, and as though you're hiding something.
Think about entrepreneurs and politicians that you LIKE. What do they do that seems real and authentic? The successful ones… Richard Branson or Sara Blakely are successful because they are authentic and REAL.