Renovating my house and run my business
Renovating my house and run my business at the same time is my greatest challenge this YEAR and in this video, I share why..
I've renovated 4 houses over the past 3 years.
But renovating my own home was definitely the biggest challenge that I've faced.
It is because it is so much more personal and sooooo disruptive!
In this video, I share some of those challenges.
And how we overcame hurdles both in the renovation and in the business.  
When you work from home, your home and work are interlinked in ways you don't really think about.
I struggled with the dust because it really affected my health. when we moved out to an Airbnb, that also added an extra layer of complication.
We didn't foresee when we had to cope with a crazy neighbour.
And We ended up moving house 6 times in 8 weeks, which when renovating my house and run my business​, a 3-year-old and ill health is a lot to take on!
Managing property renovation is very much like running an online business.
You still have to budget, and plan your time, and manage how you deal with people who build your infrastructure.
3 lessons I learned that apply to online businesses
1. Allocate breathing space for you and your business when you're planning a major upheaval – a new house is a bit like a new website.
Your business will still grow, and you'll still have clients, and launches, and marketing.
But it may be chaotic.
Give yourself time to manage the unexpected, and also time for you!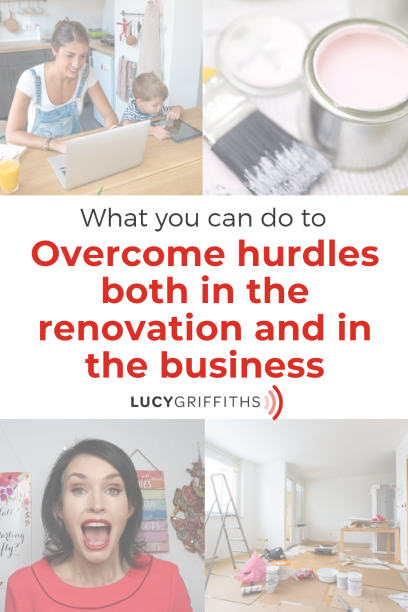 2. No matter how much you plan and prepare – work always costs more and takes longer than your schedule. Ensure you've budgeted for the emergencies.
3. Everything is messy and chaotic in the middle… Yes, it may be stressful, but the end result is always worth it! Focus on the end in mind, and know that it will be more than worth it!
IF YOU LOVE PINTEREST, I WOULD LOVE FOR YOU TO PIN AND SHARE: